Memorials
Memorial events took place in cities across the globe.
An outpouring of genuine grief swept the country.
In Birstall, West Yorkshire, the site of the attack, the floral tributes grew daily.
In Jo's home town of Batley, candles were lit, songs sung, poetry read, and a minute's silence held in respect of the proud Yorkshire MP.
Our Yorkshire Rose banner, 2016
The mooring where Jo lived is a close community full of friends. When Jo died many of the artists on the mooring worked together to design and make this banner. It was designed in the style of an old trade union banner, a nod to her politics and also her strength. It was carried by her neighbours to the vigil in Trafalgar Square, London. Her neighbours have been a huge support to her family and remain a close knit community.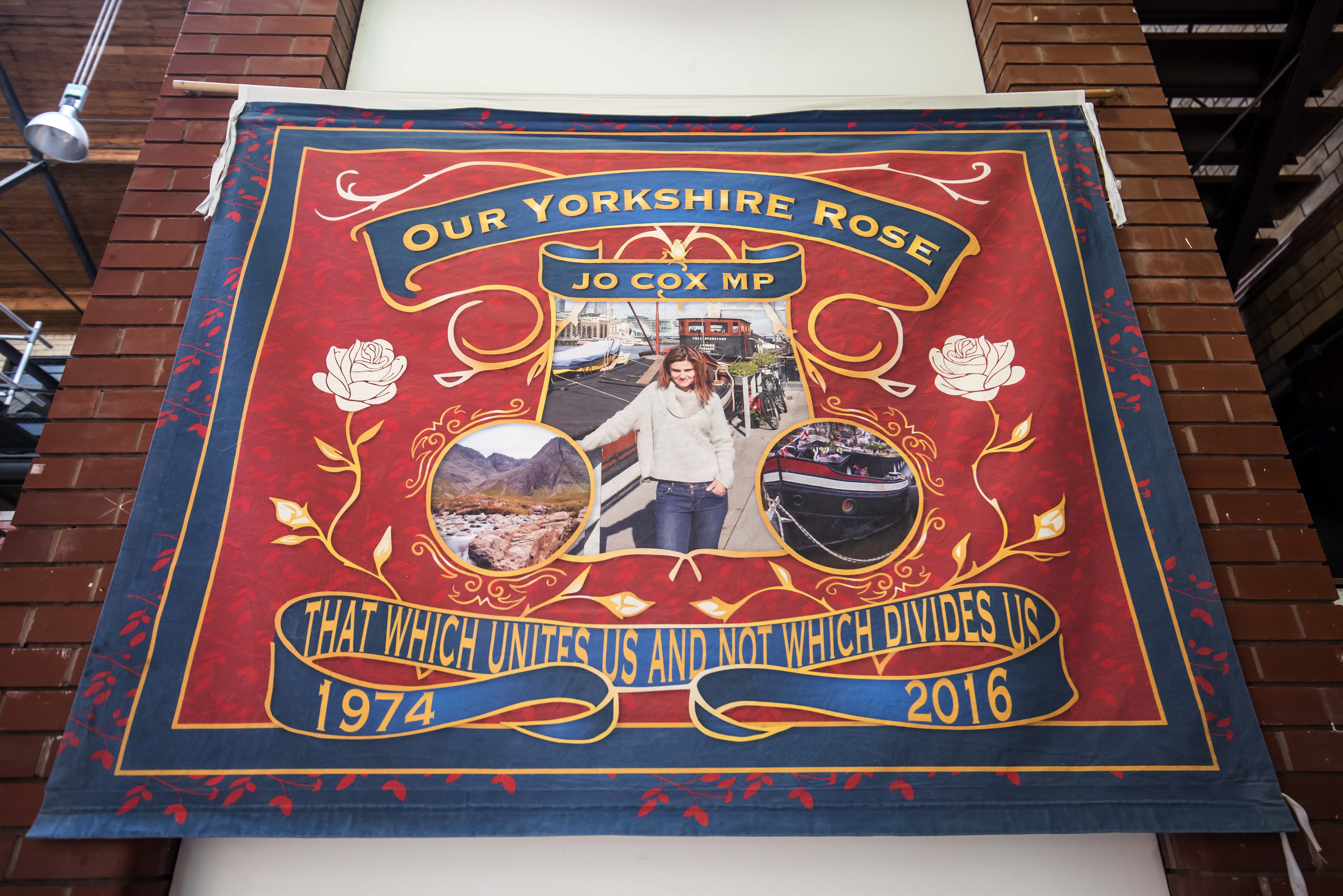 Courtesy of Jo Cox's family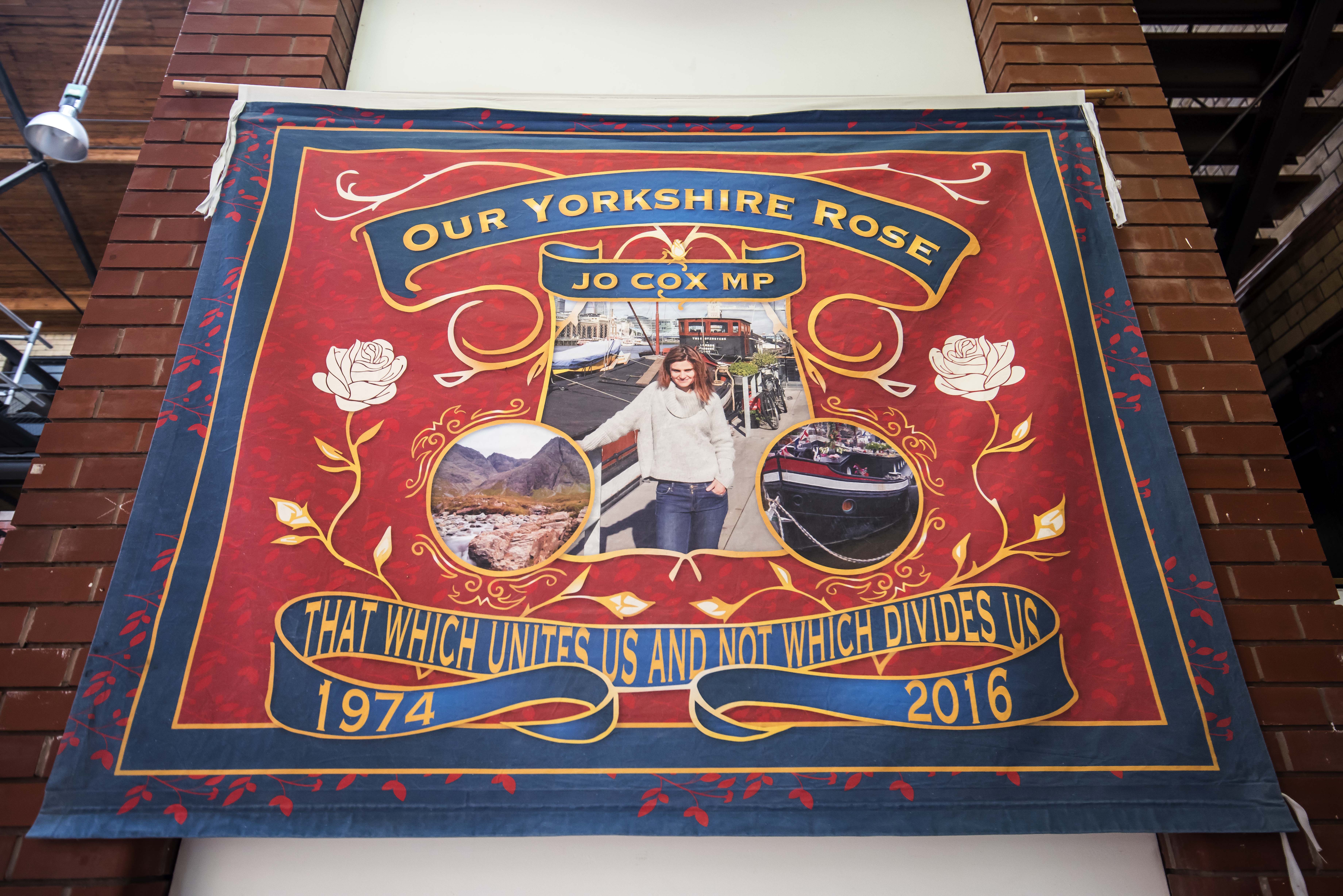 Placard left at Birstall, 2016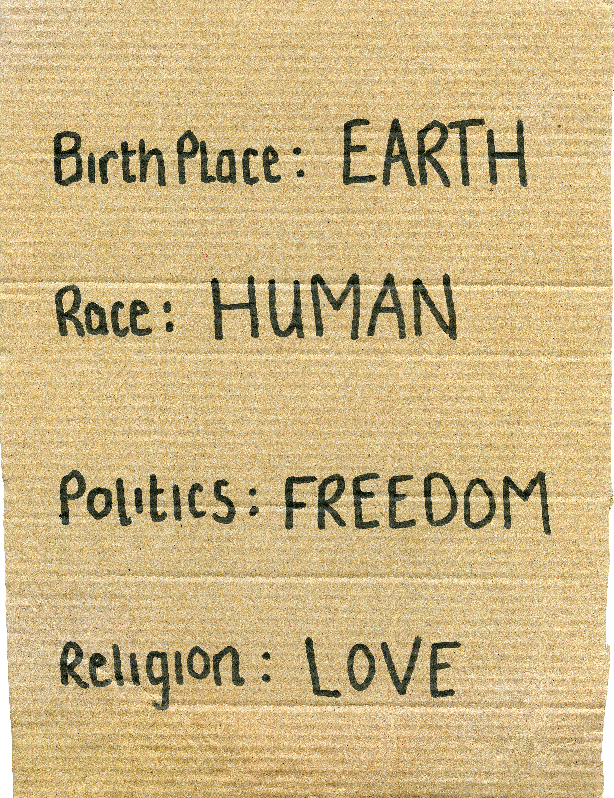 Courtesy of Jo Cox's family
Fascism will never win placard left at Birstall, 2016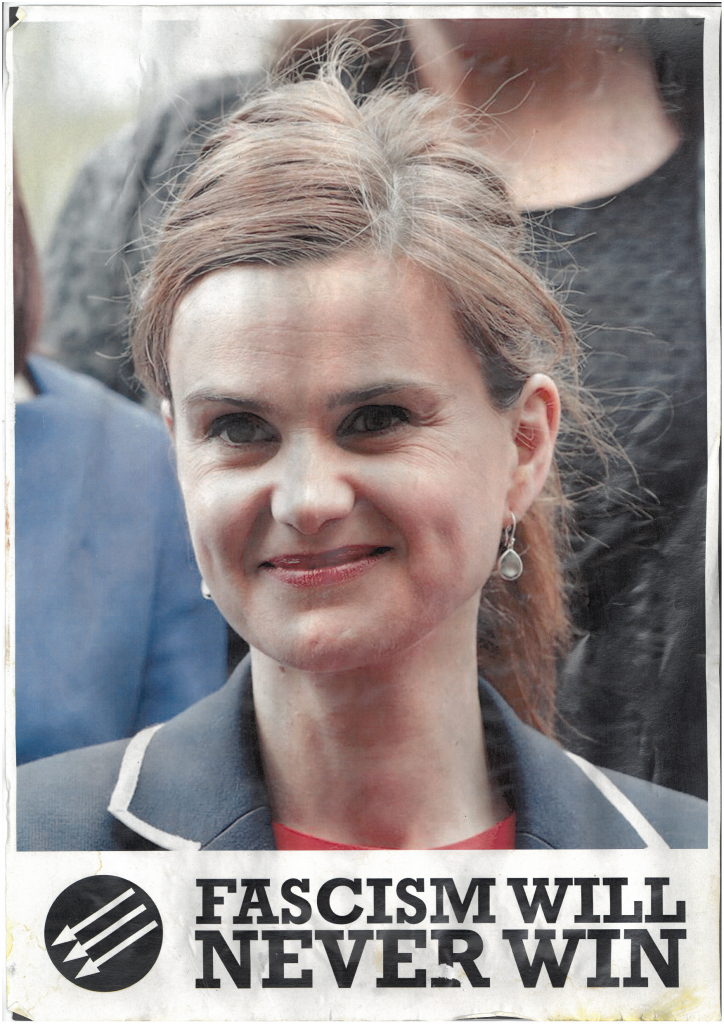 Courtesy of Jo Cox's family
Tributes to Jo Cox from Warwick Road Primary School, Batley, 2016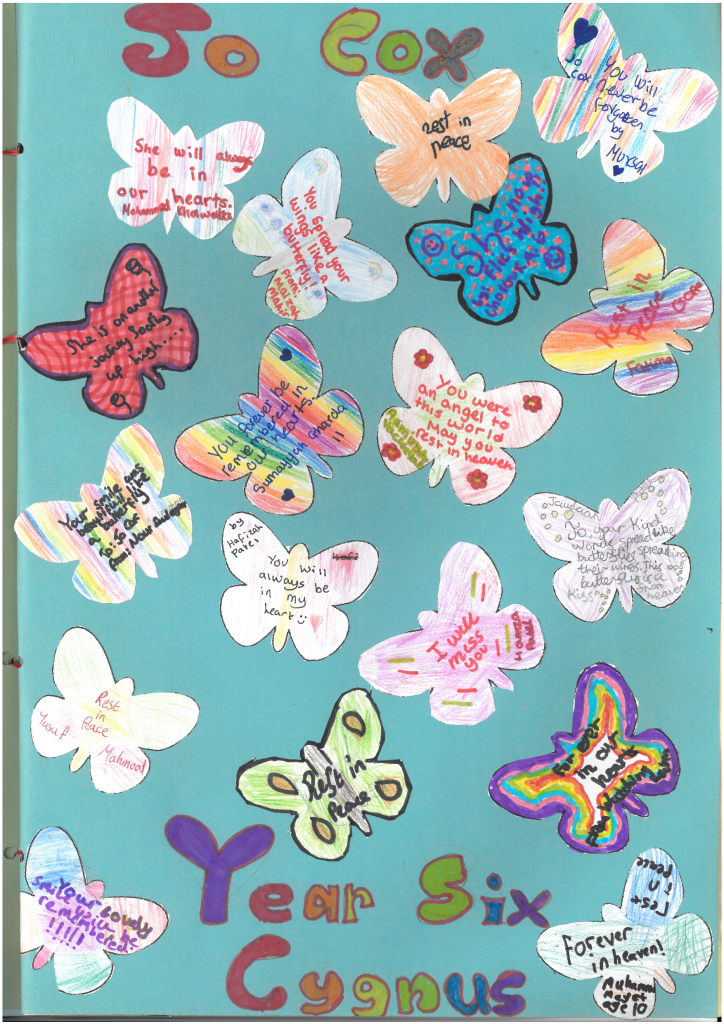 Courtesy of Jo Cox's family
The Brownies 'Tributes to Jo' book, 2016
Courtesy of Jo Cox's family

This book of tributes to Jo is from the 1st Roberttown & Norristhorpe Brownie group in Jo's constituency and the village where her parents and sister live. Jo attended their 'pack holiday' one Friday night and told them all about her travels around the world and her job as an MP. She told them that they could be anything that they wanted to be and they ate hotdogs together. After the camp the Brownies wrote letters to Jo and she replied to them all individually. After her murder the Brownies planted a rose bush in her memory, they call it the 'hot dog rose'.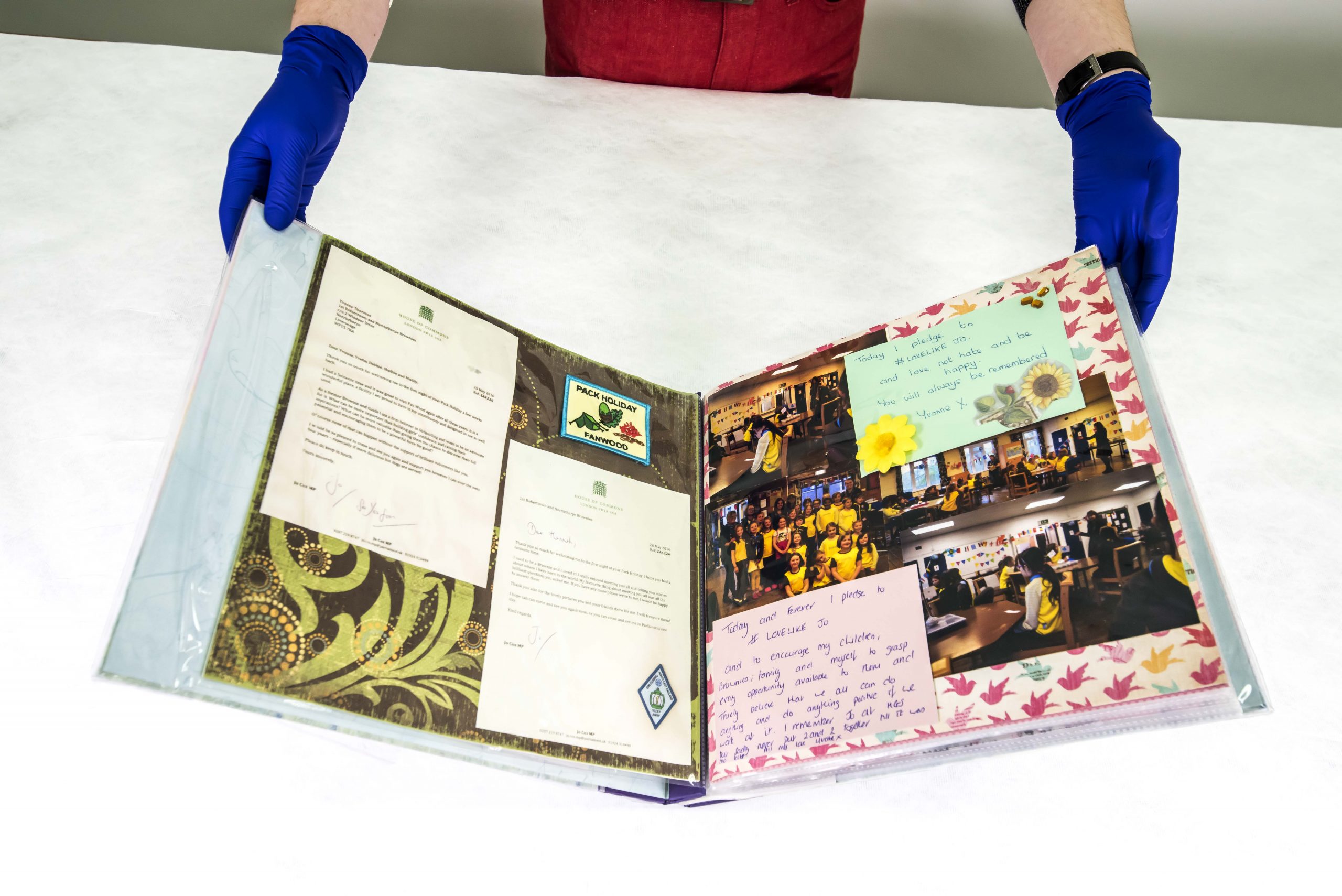 Batley Bulldogs rugby ball signed by the girls' rugby league team, 2016
Jo was a good friend to the Batley Bulldogs.  She had visited the club on a number of occasions and met the chairman, chief executive, coaches, players and cheerleaders.  The girls' team left this rugby ball and various other tributes to Jo in Birstall.  The club now holds an annual memorial game in Jo's honour as part of The Great Get Together weekend in June.

Courtesy of Jo Cox's family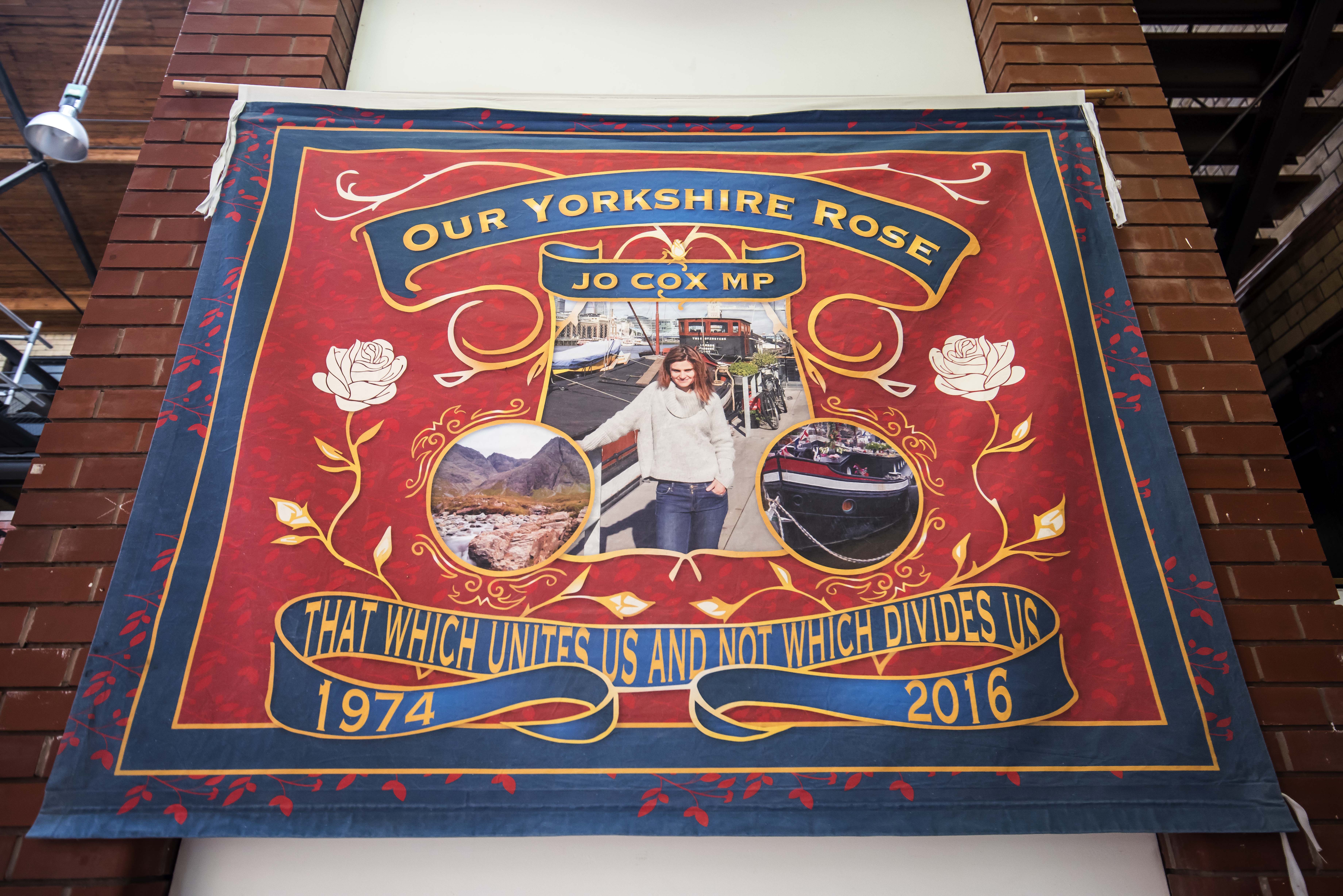 Batley Bulldogs Girls On Tour flag, 2016
Courtesy of Jo Cox's family

Jo worked with the Batley Bulldogs girls' rugby league team. She felt passionately about young women in sport and championed the team. The team left this flag and various other tributes to Jo in Birstall.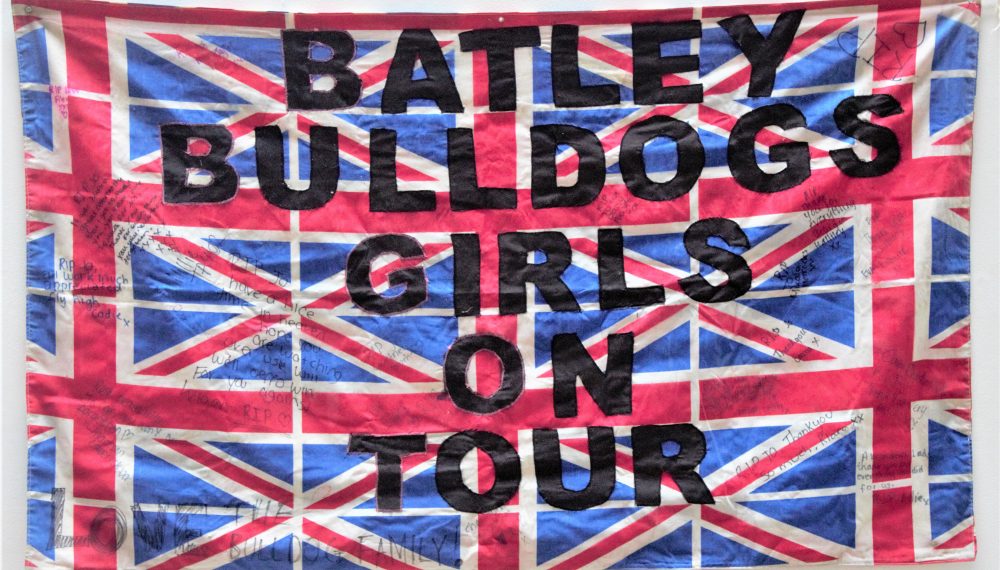 In the UK and beyond
In Parliament Square, London thousands of people visited a memorial which included the wall you see in this exhibition.  A week later, thousands more gathered for the 'More in Common' vigil in Trafalgar Square, London on what would have been Jo's 42nd birthday.
In Manchester, another vigil took place in Piccadilly Gardens to honour Jo's memory and similar international events took place as far away as Nairobi, Washington and Buenos Aires.
'I remember being so shocked and saddened at the murder of Jo Cox. I went to her memorial in Trafalgar Square. I wanted to stand shoulder to shoulder with others against hate'
Coat of Arms of Jo Cox, 2017 from Lejla and Cuillin Cox
'This is the coat of arms of Jo Cox (our mum).
Daddy and the two of us designed it. It has the three suffragette colours of green, white and violet.
In the middle is a mountain and the green and blue represent rivers and hills.
The rivers are the River Thames, the River Wye and The Swale.  The hills represent the Wye Valley where we spent our holidays.
At the top and the bottom are two roses (white and red).  The red rose stands for the Labour Party and the white rose stands for Yorkshire.  There are four roses because there are four of us.
It means a lot to us because it is handwritten and because it shows things Mummy cared about.'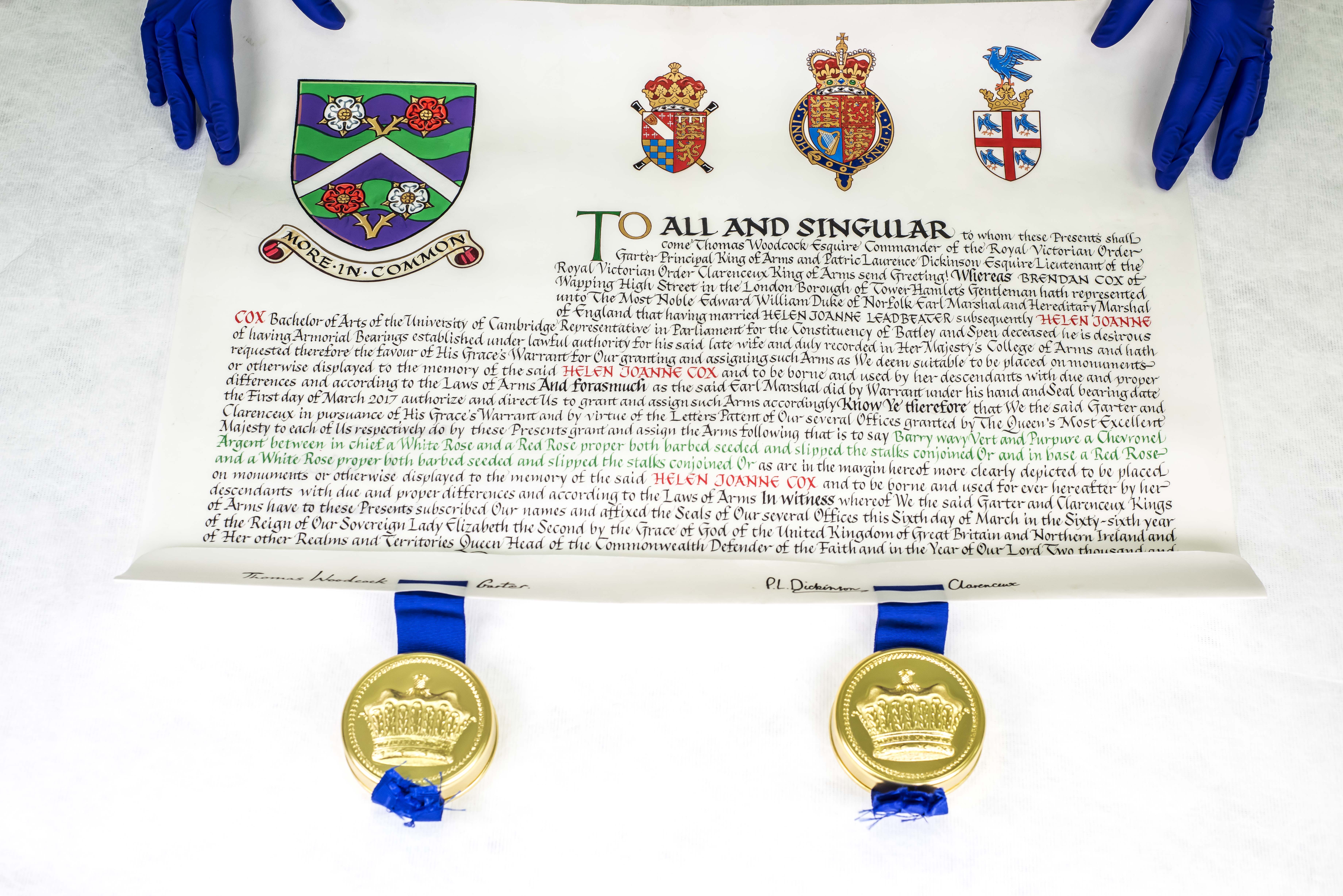 Courtesy of Jo cox's family
Coat of Arms of Jo Cox in the House of Commons, 2017
The coat of arms was unveiled in the House of Commons on 24 June 2017, by Jo's children.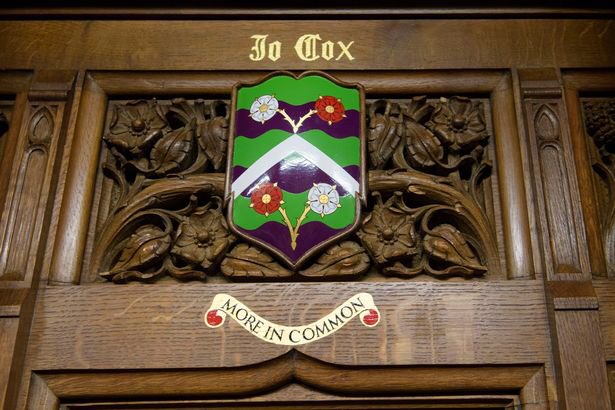 Courtesy of Jo cox's family
#LoveLikeJo artwork, 2016
'So I painted Jo's face in ink on paper, to best capture her bright and soulful eyes. But given the time crunch, I sketched her body as an iPad painting. Late at night, I emailed Jo's friends the artwork. When I woke up a day later, countless photos of people gathering for Jo were flooding in on social media, newswires, TV.

Thousands of people in Trafalgar Square were holding up the portrait of Jo on posters, boards and pledge cards. The image had taken on a life of its own as part of this larger movement, it was being carried by love, with people building their own meanings on top of it, all of them resolving to #LoveLikeJo. Tears arose in my eyes.' Drue Kataoka, artist, CEO Drue Kataoka Studios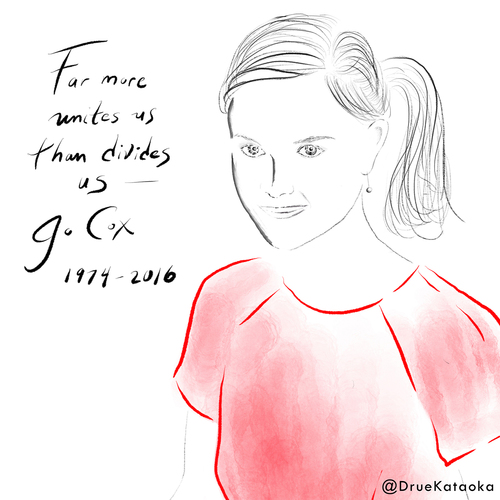 Silver cross blessed by the Pope, 2016
This beautiful cross, blessed by Pope Francis, was presented to Jo's family by Father Eamonn O'Higgins and senior representatives from the Vatican and the Vatican's St Peter's Cricket Team at a private meeting in September 2016.  The team were visiting Yorkshire to play against a local cricket team at Mount Cricket Club in Batley as part of their 'Light of Faith' tour of England.

Courtesy of Jo Cox's family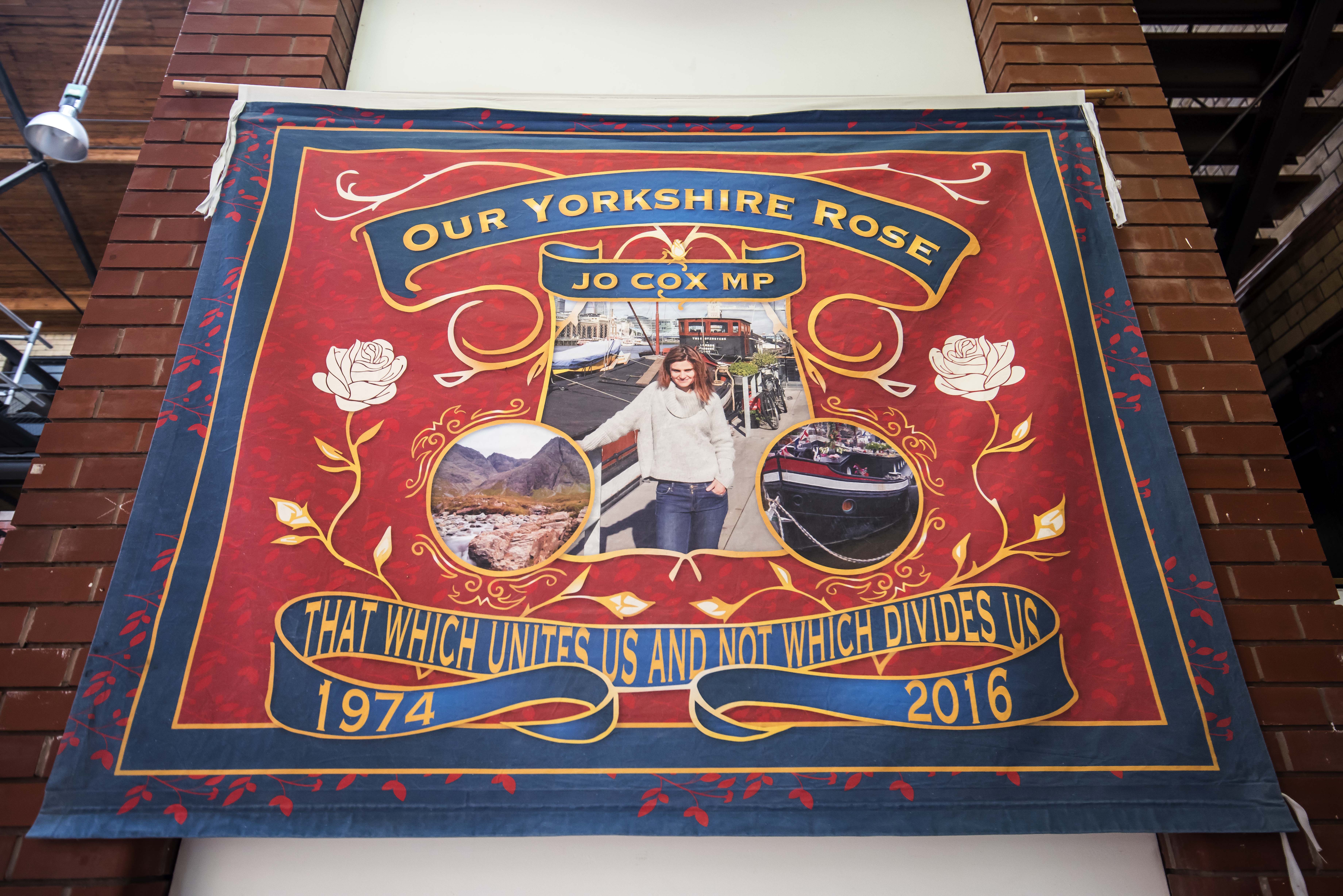 Jo Cox Memorial Wall, 2016
Following Jo Cox's death, a memorial was erected in Parliament Square in conjunction with the campaign group Avaaz*.

The focus of the memorial was a wall on which hundreds of people from the UK and overseas left written tributes expressing their condolences and sympathies. Flowers, candles and flags were also left.

*Avaaz means voice in several European, Middle Eastern and Asian languages
Explore the memorial wall in detail